By PAT KOVSKY-DOTSON
As Mother's Day approaches, we begin to think about our mother and what she has meant to us during our lifetime. We honor those who are still with us and memorialize those who are no longer living in our day to day world.

As the day approaches, I would like to remind you that most everyone has a person who is not your actual mother, but who has loved and nurtured you through time. My story includes not just one such lady, but three! Most people are not so fortunate.

These three, now gone to Heaven, were my father's sisters. Many of the years of my life they worked away from us, but I was fortunate to have all three living near a great deal of the time. After retirement, all three made their home together, so with one close-by visit, I could be catered to in fine fashion.

These grand ladies were not married, though some were engaged at one time. Instead, two of them chose careers and one was a caregiver to their parents. Each one would have made a fantastic mother. They all three were given nicknames by the children, and the entire family called them by these names which will not be used in this story.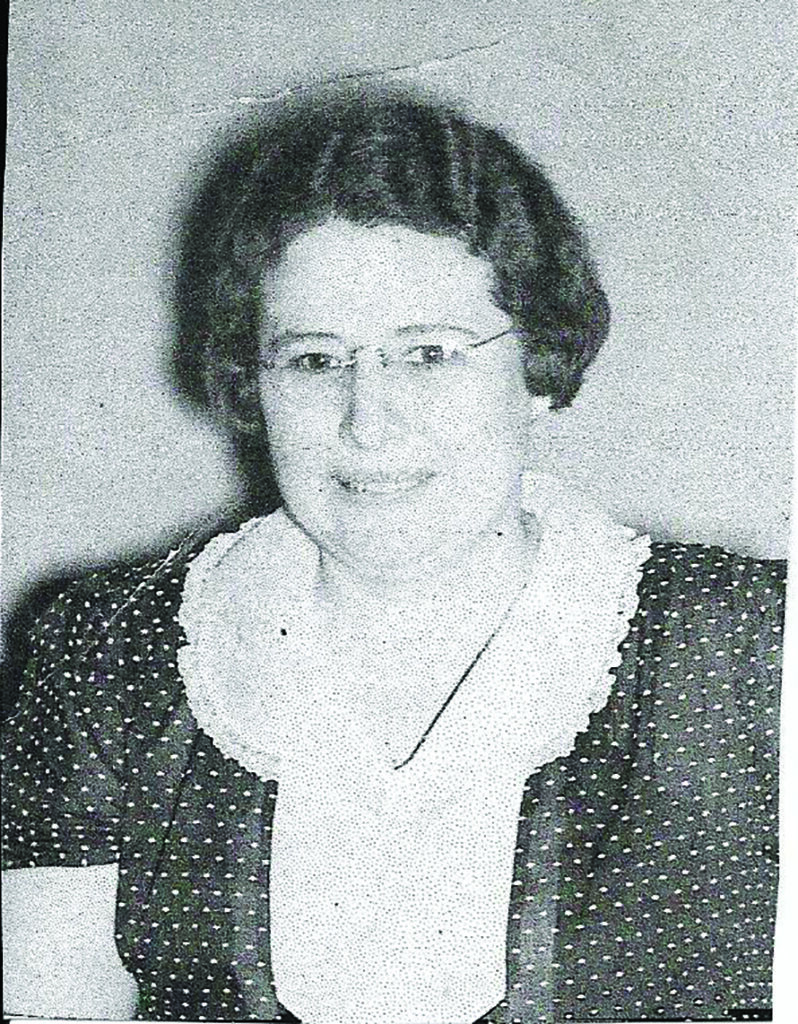 I remember from the time I was a toddler they had a part of my life at one time or another. Not having children of their own put them in a position to love me and to spoil me. Now, not just myself, but my sister and three of our cousins. It did not stop with our generation but continued with our children as well. One good thing about this for them is that they could enjoy us and then we would go home!

Aunt Clora was the oldest and I remember her when I was 4 or 5 years old. She was a very smart lady and had come to our town living with her aunts until she learned telegraphy and began her life as the operator of the Western Union, which was so popular then. Her office was at the other end of town so she could visit us often.
I remember a trip with her to the grocery store where she always bought me a little treat. This time was so memorable for me because my shoestring had broken and I was slopping around with my shoe coming off. She saw this and bought me some new strings and put them in my shoes right there in the store. They probably cost a nickel back then, but I thought they were a treasure. Kid-like, I would go along looking at them as we walked back home. Kids remember little things like this.

She had short hair and used a barber for cutting, so she took my bushy curls with her one day and I came out so proud and looking fine. This barber had won me over, and I liked him because he gave me chewing gum. This was probably my first out-of-home haircut that I remember.

When I was big enough to walk home from school, I would walk all the way down the hill from school, through town and to her office. She had a big desk there in addition to her counter where she did the ticker tape on her equipment. I never was interested in playing with this, but I got to sit at the big desk, sort rubber bands and paper clips, and put everything in order. I truly believe this was where I got my love for an office which became my career.

Aunt Clora began traveling for the Western Union in several states, but when she retired she moved back to our area to live with her now-retired sisters and continue to be a part of my life.

One of the first things she wanted to do was to learn to cook for she had had to eat out all those working years. She gathered recipes along with instructions and began to practice. She was a self-starter, and it wasn't long until she was a better cook than any of us.

She shared her cooking skills with church groups, friends, family and even the needy. This went on to include huge family get-togethers for Christmas, Thanksgiving, Easter and other occasions. These three women could put on a table spread of delicious food that would feed an army. Through the years the next generation tried to get her to let us do it, but this was her "thing" and she did it until she was disabled. Guess who took up the tradition? I just could not let these family occasions pass away.

One of the treasures I have of hers is the handmade notebook of recipes which she had tried many times and had typed for safekeeping. What makes this so special to me is that it is smeared in places with flour and grease and a little batter. There is that one page where part is the imprint of a hot stove burner!

I also have antique pictures she had in her room, along with a compact she gave me as a teenager with my initials in gold. Many more stories could be told, and I will always hold them in my heart. You just don't forget someone who turned out to be your extra mother.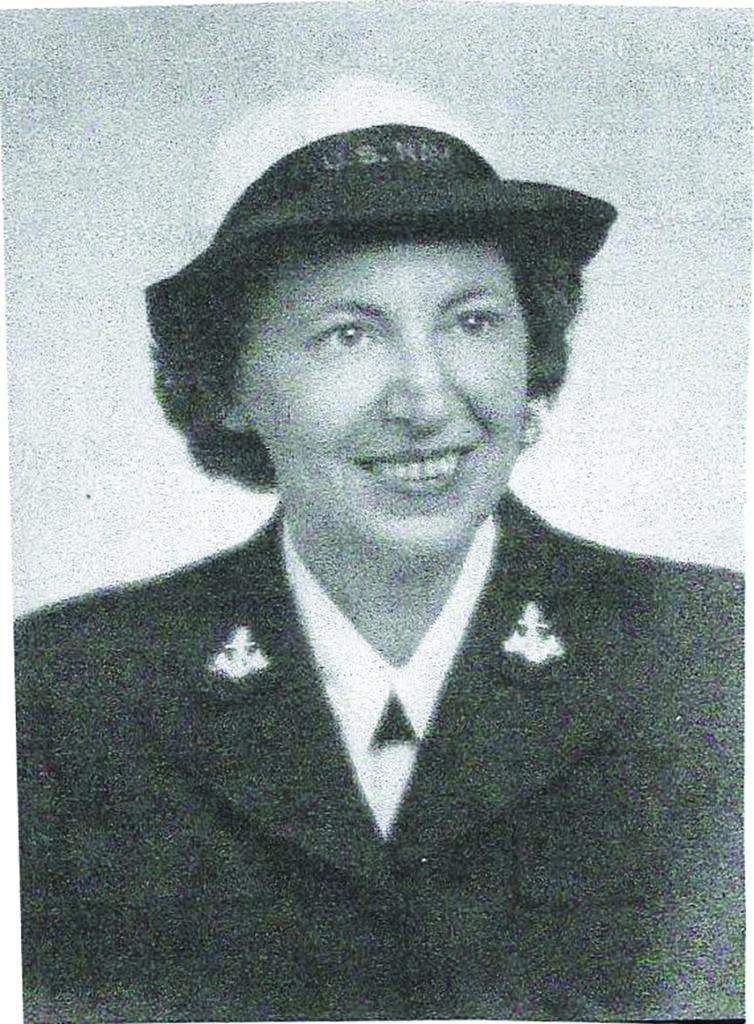 The next in age was my Aunt Vera Nell who back in the early days had attended the Georgia State College for Women and was a country school teacher for a time. She later moved to Kentucky with a job as an accountant in a business.

When World War II came along, she decided to join the Navy and see the world! Actually, she only saw Georgia and Florida. She was a Naval WAVE stationed at a Naval Air Base near Atlanta, and naturally she was an accountant.

From time to time she had to go to the Naval Base in Florida to do an audit.

She learned to call the airstrip and ask if anyone was flying to Florida that day. Of course, they were, and she made her reservations in a fighter plane because they were faster. She suited up with gear and a parachute and climbed in the two-seater plane – the thrill of a lifetime. This lady was on the cutting edge for women back in that day.

I can remember, being a patriotic kid, how elegant she looked in that Navy uniform. When she came home, she let me try on her uniform and taught me how to salute. I was so impressed with all those gold buttons and emblems. Actually, I pretended it was the one who was in the Navy!

After the war she came out of the Navy but remained as a civilian chief accountant on the Naval Air Base. Now she could come home every weekend. This is where the excitement began. Later when I was grown and married I began to learn a lot from her many talents.

To really define Vera, I would say she was a do-it-yourself person. When she retired and moved home with her sisters, you would find her remodeling parts of the house, adding closets, wood bins, wallpaper and paint. You might even catch her on top of the house if a shingle needed to be added.

Vera was a garden person also. She would sit between the rows and pull weeds, which is my plan for doing this today.
She helped with the cooking, canning and freezing and just automatically became a part of the country way of life. This is proven by the times she has taken me with her to the woods to gather ferns and other plants for the yard.

I also learned how to make several concrete items and how to display shrubs and plants. This lady had an imagination and an eye for design.

Nobody knew she was a budding artist in so many ways. She took art lessons and would paint a picture every weekend at home when she was still working. Though this fascinated me, I knew I could never paint but picked up many artistic ideas from her. I was fascinated that she could take a vase or bowl of fruit, set it out to copy, and her picture came out exactly like her model. Her biggest fault was pointing out her mistakes which no one else would ever see.

She later began learning how to pour, fire and paint ceramics. Now, this was my thrill because I could learn this and make things for my home. She taught the family and then began classes for the public. I have several intricate pieces she made including lamps, urns and vases and more than a dozen paintings on my walls throughout the house. Treasures!

I learned a little bit of patience from her, though she had very little to spare. Though I was never an artist, by seeing the master at work, I acquired several artistic ways and designs which I am using today. Good things are taught by example.
By the way, I am still always making something out of nothing, and I get so proud of myself. My Aunt Vera never was so overly proud of her many accomplishments that nobody else in the family could begin to match. But I never inherited the desire to fly in a two-seater Navy fighter plane!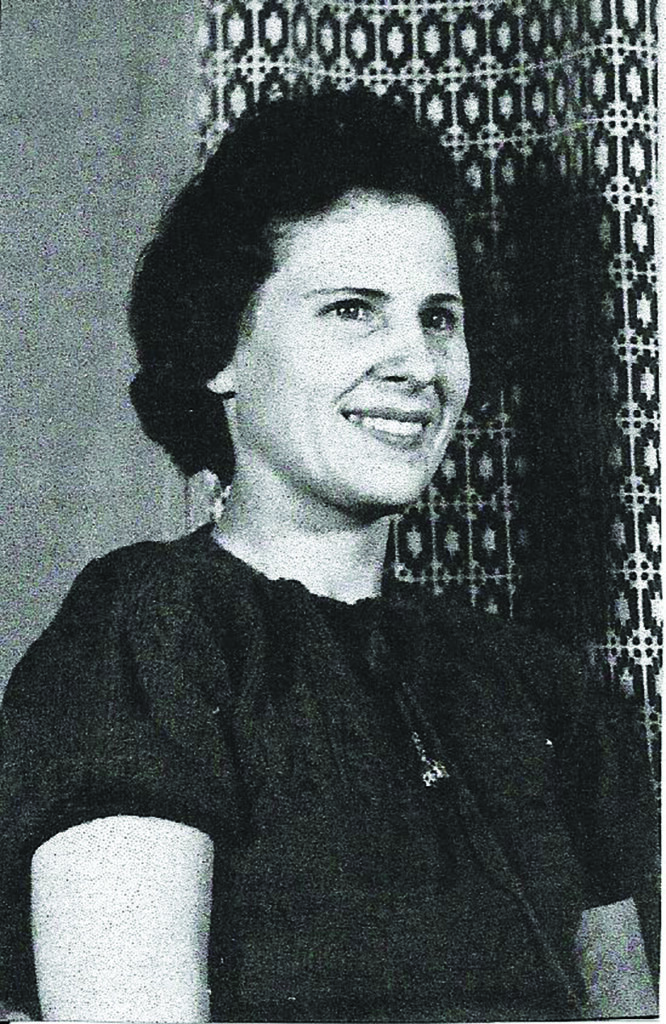 The extra mother I was with the most was my Aunt Linda. She too attended Georgia State College for Women and taught school as time allowed. My grandmother was sick and bed ridden for 20 years and required constant care. This was her task along with the household and outside chores.

In addition to nursing and household work, she milked the cow, fed the animals, killed the chickens, helped with the gardening including harvesting, canning and freezing. She was an ardent church worker as time allowed. In the winter she had time for delicate embroidery and quilting.

I always felt sorry for her hard work, and even as a kid I tried to help her.

Of course, being at the time the only one at home, she could never go anywhere. I would always bring her something back when on vacation, and after my grandparents died she went with my family on vacation once and I was thrilled about as much as she was.

When I was little, we would sit on the swing on the porch at night and catch lightning bugs and sing children's songs which I have taught my girls. She cooked my specialties and many other fascinating things in that old farmhouse kitchen.

One summer when I was a good-sized kid, I was at her house. I was playing around and arranging things on the mantel, when all of a sudden my hand slid over a dime. A whole ten cents was in my little hands. I asked if I could go up the little dirt road to the store and get some candy. After complete instructions I was on my way. For a dime, I got a whole bag of penny candy. When I got home, we both sat on the steps and talked about candy while we ate every bit of it.

When they first moved from another farm to one near us I was 10 years old. This was the joy of my life for she let me play in the kitchen, make cookies, and make a mess. This is what spoiling is all about.

She taught me how to sew on grandmother's old treddle sewing machine and helped me cut out pieces and sew together to make a quilt. I forgot about this until when I was grown and married. She quilted it and gave it to me!

When I had children of my own, I kept learning at the feet of a master. In the summer my children and I would go to her house and help with harvesting, canning and freezing. This too helped with my grocery bill for part of the products were mine. I still use these skills today.

She loved flowers and had some beautiful landscapes. When I would go to her house for plants she would help me dig up whatever I wanted. She always had these two statements: "Dig a $5 hole for a 50-cent plant." "I don't care how many you take, but just remember, you have to plant them all when you get home." Years later when these plants bloom, I remember her and her generosity. She was the third aunt with a servant heart.
These three ladies were a team, and what one was doing the others joined in.

My Aunt Linda said she was never very good in ceramics and said she just sat around and called out their mistakes. She was good at ceramics but spent spare time in doing intricate handwork, which I have today. My Aunt Clora never joined in but would sit around and knit while furnishing coffee and cookies.

These ladies lived together in retirement and in later years moved away to be near their other brother and their doctors. This distance gave way to many trips to their house and especially if one was in the nursing home, hospital or in home care.

While one was still driving they would come the distance to my house for a few days. This gave me opportunity to be a hostess to them. We visited places, ate, talked and carried on in the Holden sort of way. When it was time for them to go home, I stood in the driveway and cried while wondering if this would be their last trip. Then the final visit came and I was back too nurturing them when I could.

They lived a good life to the end and died around five years of each other. What a loss! What a treasure! Three mothers were a triple blessing along with memories and lessons learned.

Mothers are being remembered at this time of year, and this is wonderful, but I had to tell the story of my extra mothers which meant so much to my life. Though they are no longer with us, every day I see something they have given me and certainly use the many things they have taught me. Happy Mother's Day to mothers and all the extra mothers who have blessed our lives.