By MITCH TALLEY
Count Assistant Chief Randy Kittle as impressed with the capabilities of a third-generation firefighting robot demonstrated recently for the Whitfield County Fire Department.

After watching the high-tech, remote-controlled machine put out a fire in a matter of seconds – despite being continually fed by a gas line – in the county's metal burn car used for training purposes, Kittle pointed out that firefighters have never been able to extinguish the blaze with their standard hoses, despite sometimes trying for up to an hour.

Named the RS3, the robot – capable of pumping out 2,500 gallons of water per minute hooked to a three-inch hose, compared to the 250 gallons per minute for the hand lines normally used by the department – calmly rolled toward the fire and extinguished it quickly, all while being safely remotely controlled by Patrick Boccio, robotic firefighting product specialist with Municipal Emergency Services.


"That put out so much more water than our hand lines do," Kittle said, "and it put the fire right out. We'll go up with a hand line during training, and it'll burn for an hour and we'll finally have to close the gas valve to put out the fire."

Moments after the demonstrations came to an end at the county's training center next to Station 8 on the South Bypass, Chief Ed O'Brien also said he was "very impressed" with the capabilities of the robot.

During the demonstration, among the tasks accomplished by the 3,500-pound, zero-turn machine that can trace its heritage to similar robots commissioned by the U.S. Army were pushing a minivan around, meticulously winding its way around three sheds all while connected to a hose, climbing up and down a bank without overturning, and for the grand finale extinguishing the burning "car."

"I was kind of concerned with the way it would actually deploy the hose," O'Brien said, "whether it was going to kink or not, but the robot ran over it without collapsing the hose. He even did two 90-degree turns around structures without any problem. It was very impressive."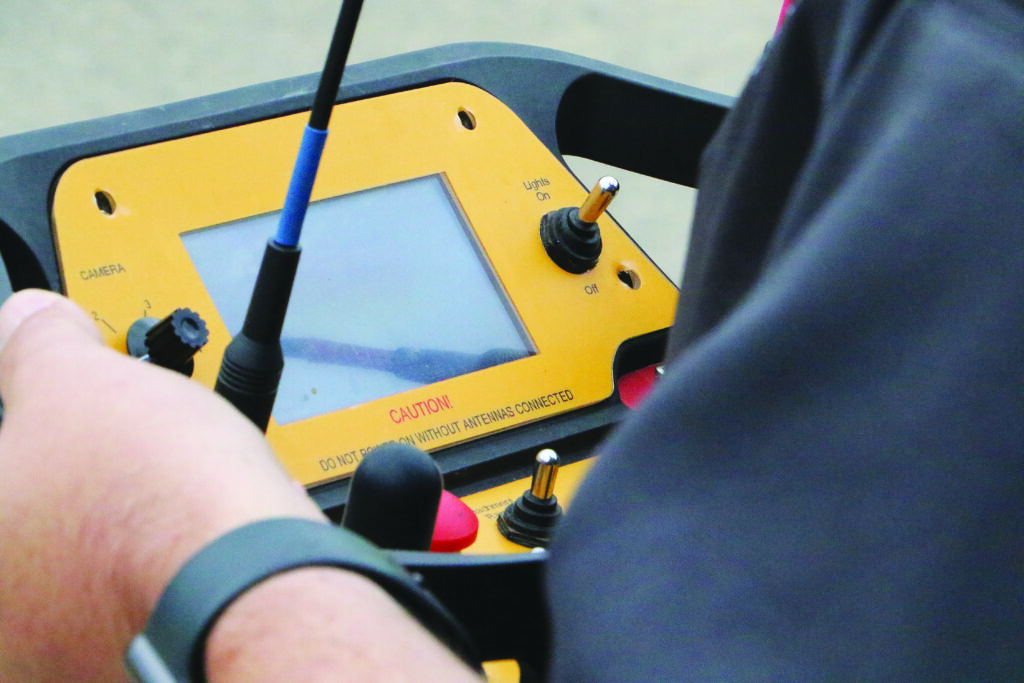 Several firefighters on hand for the demonstration had a chance to take over the remote control and quickly had the robot rolling backward and forward, moving the hose nozzle up and down and even pushing the minivan around the road. Using radio signals, the robot can be remotely controlled "anywhere between 500 to 1,000 feet," Boccio says, "and if you're out in the open like this with a good line of sight, you could stretch that a bit further."

"It was not hard at all to control," O'Brien said after taking his turn. "It just takes one hand to control it with your thumb on a joystick. I'm not as good as (Boccio), but I think with a couple of hours of practice time, anyone can run it. It's that simple."

While the robot may be easy to use, it's not quite so easy to pay for with a price tag starting out at $325,000. Still, O'Brien believes it could prove to be a useful tool on a regional basis.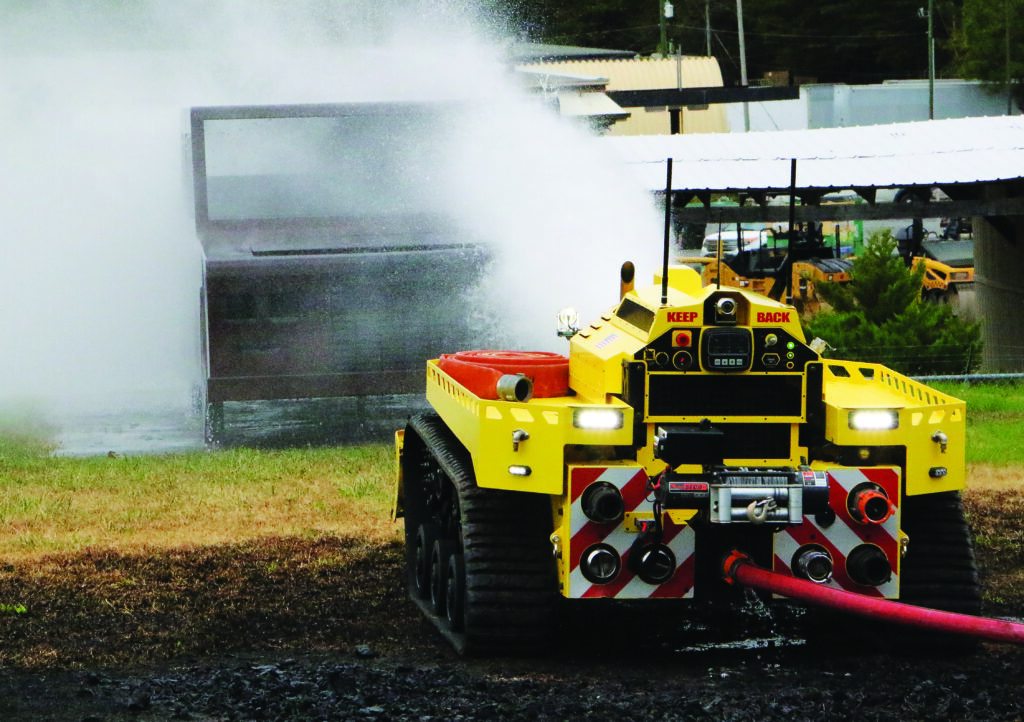 "No one can afford just to have one on their own, but maybe as an asset for the Northwest Georgia area to share, it could work," he said. "This would have worked great on that building fire we had several months ago – over off Walnut Avenue, the large carpet building that we deemed unsafe to go inside. We were there for days still putting fires out. We could have run this robot in there, moved it around where we needed to, and put the water where we needed to."

Boccio agreed.

"It would make sense to do a collaborative purchase," he said. "Pretty much like I tell people, if you send a firefighter into a building in a situation where they probably shouldn't be in there and someone gets hurt or God forbid somebody dies while trying to save a building that you had written off, this is a better alternative because it's a robot and it's very durable, made of steel and heavy-duty aluminum. If there's a collapse or there is a compromise, the robot will probably be OK, whereas a human being would not."

The robot "keeps you offensive in a fire where you weren't offensive," he added, because with its cameras, including a thermal imaging unit, "you can evaluate your conditions and make a determination whether or not to send your crews in or just hook up a hose to the robot and send it in to fight the fire."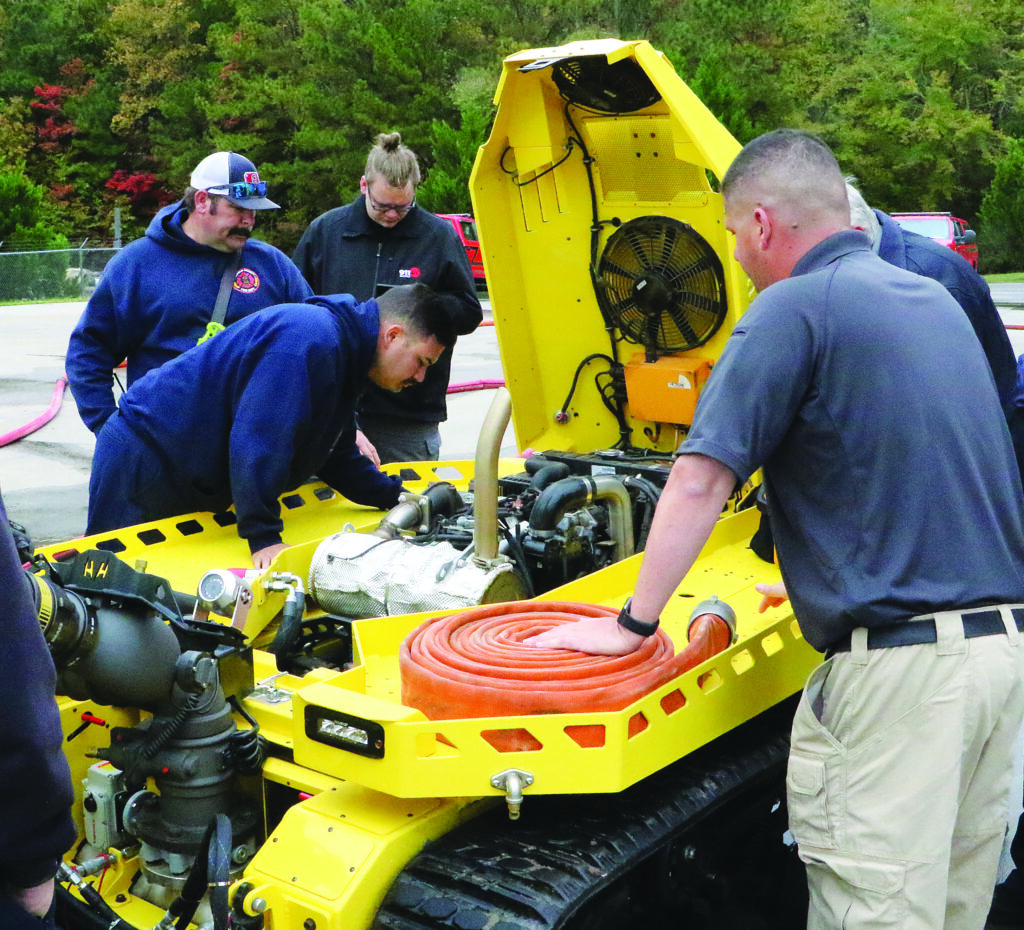 Rated to go into fires up to 500 degrees, the robot also features a self-protection sprayer system that kicks on at 100 degrees to provide a 12-foot water curtain around it in all directions.

Capable of climbing over all types of terrain, up and down banks at 70-degree angles, the robot can also push vehicles or debris out of the way with its straight or V-shaped front plow, as demonstrated locally. "The tracks on the vehicle are ballistic-tested," Boccio added. "It was originally developed for the U.S. military, so it's very rugged. There's not much it can't climb over."

The 115-inch-long, 65.5-inch-wide, 87.75-inch-tall robot is powered by a 37-horsepower Yanmar diesel engine capable of running up to 24 hours on a tank of fuel and moving at speeds up to 8 mph. After the unit has been maneuvered into place, the engine can be shut off to conserve fuel while the battery-operated nozzle continues to spray water onto a fire.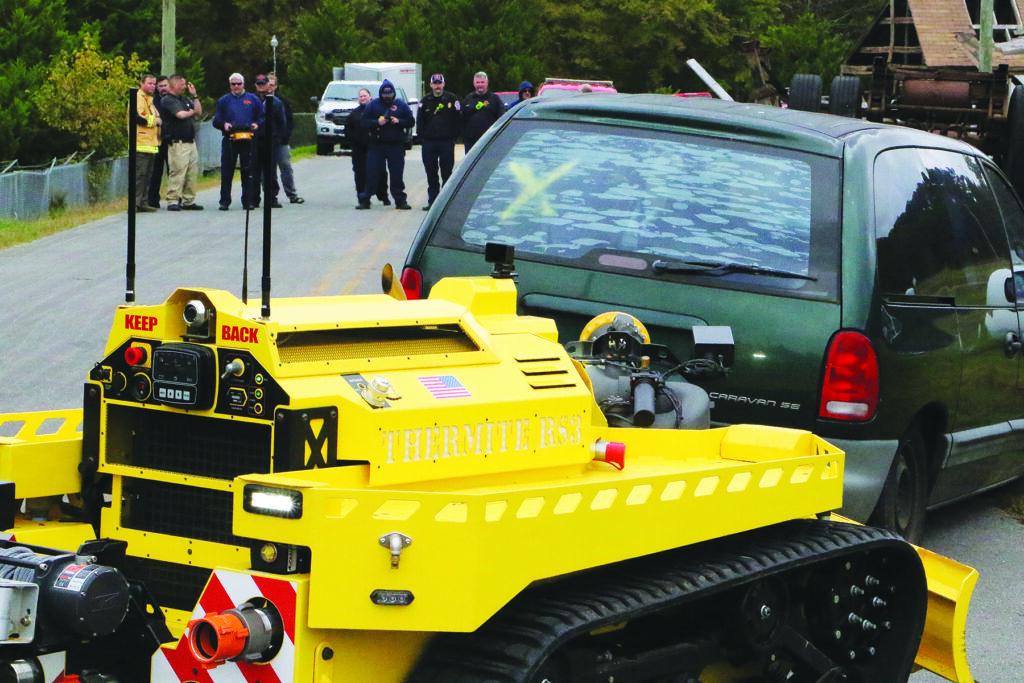 "If you were using it to cool a tank car or a large building and it doesn't have to move or push or pull anything," Boccio says, "you can actually shut the motor off and operate off the batteries for up to 12 hours. When you get into that range where the batteries are starting to drop below an acceptable level, you turn the motor back on and it recharges the batteries."